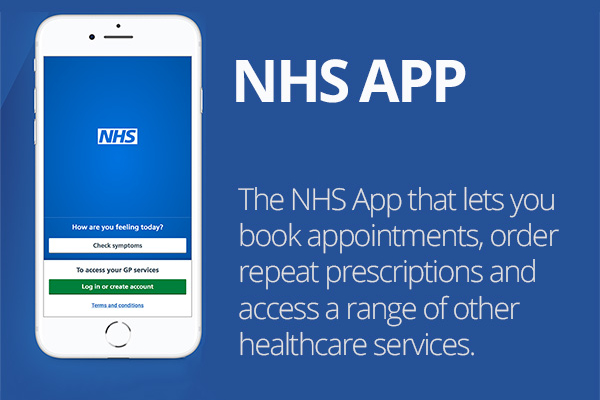 CORONA VIRUS 2020
If you have had any foreign travel this year or have had any contact with anyone who has and believe you may have symptoms of Corona Virus, please do not come into the surgery. Please contact NHS 111 either online or by telephone.
In line with the latest advice from the government:
If you have symptoms including a new continuous cough or a high temperature or fever, more than 37.8°C, stay at home and do not leave your house for seven days from when your symptoms started.
You do not need to call NHS 111 or do not need to call your GP to go into self-isolation. Use the online NHS tool for guidance on what to do next. If you have no internet access, you should call NHS 111
REPEAT PRESCRIPTIONS
As from the 1st September 2020 we will NO LONGER take precription requests over the phone. Please contact the POD serivce on 02476 246072. You can also register for the online services by contacting the surgery or you can register for the NHS APP as shown above.
Are you registered with Beech Tree Medical Practice? If so - then please read on.
New data regulations are coming into force in May 2018 which prevent us using your contact data to contact you if we want to tell you about health issues that might affect you.
If you wish to remain uncontactable, you do not need to do anything. However, if you would like us to be able to get in touch with you about your health issues, then you need to give us permission. The easiest way to do that is by completing the questionnaire on the front page of the surgery website.
Some people are having trouble completing the questionnaire on their smartphones - so you might find it easier to use a computer or call in to the surgery and fill in a paper version of the questionnaire.
The link below is for the short survey.
https://www.surveymonkey.co.uk/r/NPKWXCC

Rugby Health & Wellbeing Centre, Drover Close, Rugby, CV21 3HX

Tel: 01788 561319

Email: beechtreemedicalpractice.generaloffice@nhs.net